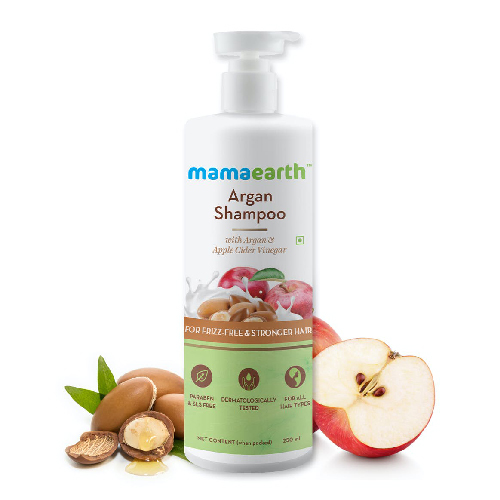 Mamaearth Argan Shampoo With Argan And Apple Cider Vinegar For Frizz-Free And Stronger Hair, 250ml
Out of Stock
Free Delivery
Delivery
Free delivery in Thimphu. Delivery charges may be applicable for other Dzongkhags.
Note
If you are not happy with our service or if the product is not up to your expectation, you can cancel the order on the spot when we come to deliver your order. There will not be any cancelation or delivery charge imposed for returning the goods.
Terms and Conditions
1. Prices of the products will change with time. It can go higher or lower.
2. Incase of faulty products, replacements or refund should be claimed within 24 hours after receiving the product.
3. Refund process will take 24-72 hours.
4. If delivery is required urgently, it should be mentioned while ordering the product (as a remark).
5. By ordering on Azha Pasa you agree to the above terms and conditions.
---
Product Description
Listen to your hair's cry for help! If untamed, frizzy, and damaged hair is making you lose sleep, here's the perfect answer to your hair prayers. Mamaearth Argan Shampoo for frizz-free & stronger hair is a specialized blend of Argan Oil, Apple Cider Vinegar, Vitamin E and many other effective ingredients to help you achieve the hair you dream of. Its unique formula helps in reducing split ends & frizz. Nourishing vitamins repair dry & damaged hair while the natural & toxin-free cleansers in the shampoo help in cleaning & nourishing the scalp. Safe for colored & chemically treated hair, this shampoo is free of harmful chemicals & toxins such as Parabens, Sulfates, Silicones, Mineral Oil & Dyes.
---
---
Shop By Categories