Omkha Adult Bathtub, XL - White & Blue
In Stock
Free Delivery
Delivery
Free delivery in Thimphu. Delivery charges may be applicable for other Dzongkhags.
Note
If you are not happy with our service or if the product is not up to your expectation, you can cancel the order on the spot when we come to deliver your order. There will not be any cancelation or delivery charge imposed for returning the goods.
Terms and Conditions
1. Prices of the products will change with time. It can go higher or lower.
2. Incase of faulty products, replacements or refund should be claimed within 24 hours after receiving the product.
3. Refund process will take 24-72 hours.
4. If delivery is required urgently, it should be mentioned while ordering the product (as a remark).
5. By ordering on Azha Pasa you agree to the above terms and conditions.
---
Product Description
This folding bathtub 110x64x58cm for adults for shower stall is light and convenient, and easy to operate,It only takes a few minutes to be used when using it,It can realize the dream of taking a bath anytime, anywhere,The most important thing is that it does not occupy a trace of space, whether it is travelling A sanitary ware product that can be easily carried in camping, camping, and parties.
Safe material: Freestanding tub for adults, made of non-toxic and tasteless PP TPR material, safe for human skin.
Easy to clean: There are a total of two holes, one soft water plug in the drain bucket on the side of the Shower tub for easy drainage,external drain connection, convenient bathroom drain directly to the sewer.
---
Related Products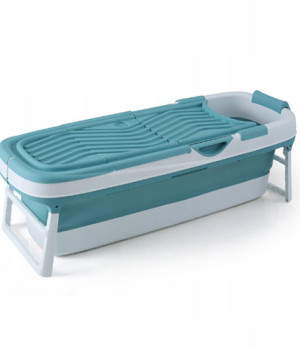 Free Delivery
---
Shop By Categories